Red Bull: Event Vehicle – Part 1 – The Build
Red Bull is known for their beat-blasting, mean-looking rides. The #MMMob were tasked with documenting the top-secret construction of two new members, of their voracious fleet.
The Brief
In South Africa, Red Bull is known for their macho automobiles which rock up to events and parties across the country. Mobile Media Mob was assigned with a top-secret job. The energy-drink brand was acquiring two new event vehicles, and we needed to document the ordinary cars being converted into customised muscle machines, for their big debut.
The MMMob Approach
Two brand, spanking new Land Rover Defender 130s were about to undergo the soup-up of the century. We're talking plasma screens, gaming consoles, fridges, generators, DJ booths and sound systems which could knock the fizz out of your Red Bull.
It was all going down in a Cape Town workshop. The construction would be handled by local Landy specialists, under the guidance of an Austrian team, who were jetted in for the makeover.
We knew just the MMMobster for the job: Automotive Photographic Guru, Desmond Louw. The entire process was planned down to the nuts and bolts, allowing Des to be there every step of the way. We also got a little help from a GoPro mounted to the ceiling of the workshop, capturing the build top-down, bit-by-bit.
It all started with the delivery of the vehicles, only for them to be disassembled down to their core chassis. A shipping container from Australia hit our shores, containing prefabricated, interlocking pieces of metal armour, which cued the reconstruction and futuristic look. Des became embedded in the gruelling task. The eight automobile experts were at it for 10 hours a day. And every day, after closing up shop, Des chose his top selects, and banked the images, to build up a sequential story, and note any pick up shots needed on the second vehicle build.
Once the shell was in place, the R1 million worth of bells and whistles were installed, completing the matte-black, with the raging bull logos, and birthing the hybrid of Lambo meets Stealth FighterJet, 4×4 Event Vehicle behemoth-machine. In addition to documenting the process, Desmond also shot portraits of each team member, to tell the story of the men behind the epic machines.
MMMobsters
Creative Director: Thoban Jappie
Photography: Desmond Louw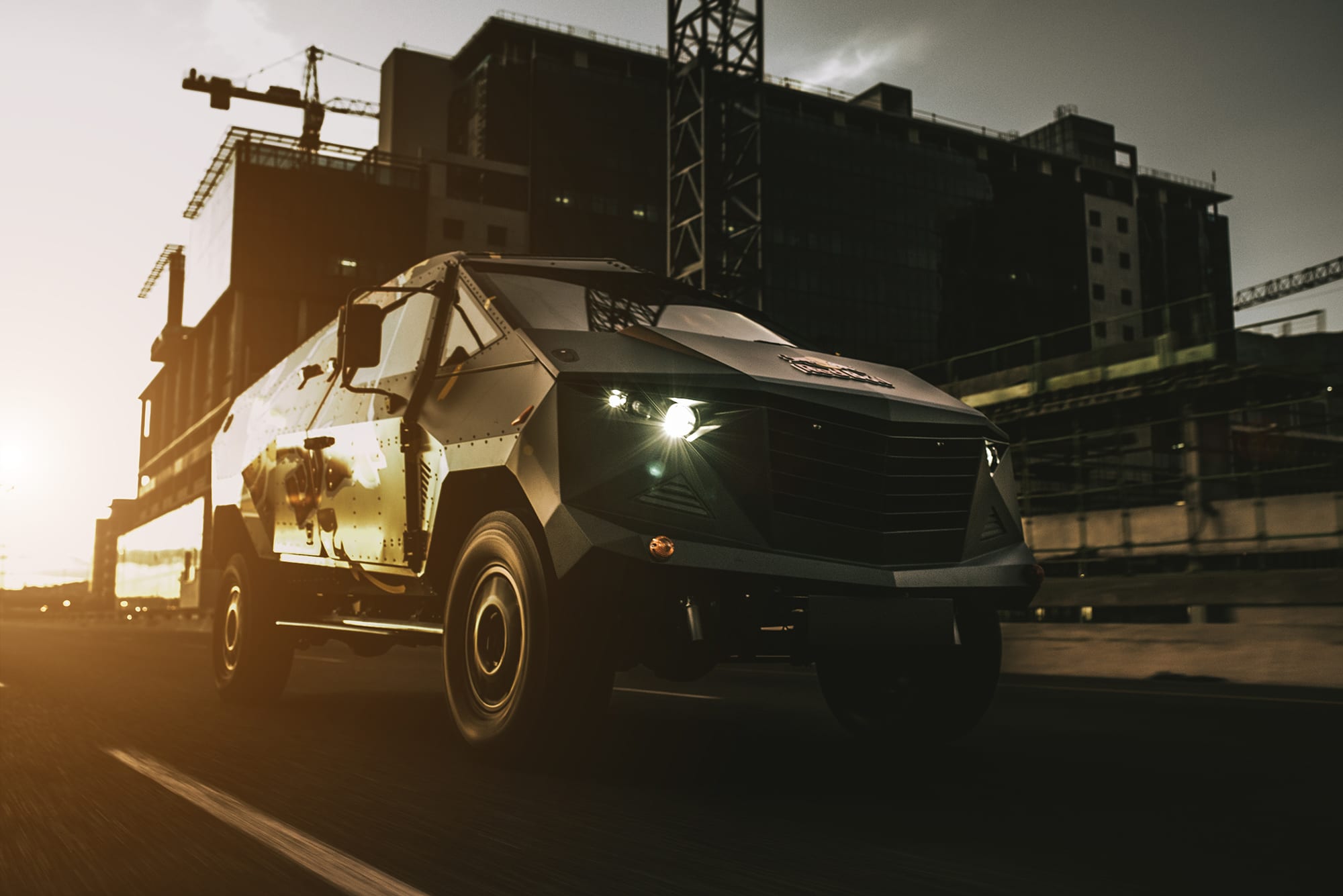 How do you shoot Red Bull's new event vehicle in the heart of Cape Town, while remaining completely inconspicuous? With a completely stealth operation, which felt more like a heist, than a shoot. That's how.
4-day Build Timelapse Video
Find Us
We are co-located within the offices of POST, in the Old Castle Brewery.
More MMMob Work